Whilst all of my personal bullshit was going on, I was working with my colleagues to organise a symposium! Doing something that others could enjoy has been extremely satisfying. We used platforms other than zoom to run the event, so tried to be as helpful and transparent as possible with speakers/attendees to help get everything up and running! Thanks for your input everyone!

We are going to continue publishing the videos with the GGLab. For now, I've uploaded our opening address, for those of you who missed it!
Hello and welcome to the 2020 Digital Heroisms conference.
Before we begin, I'd like too say a few words prepared by myself and the board, who I will begin by introducing. I am Gabe, an LKAS funded PhD researcher at the University of Glasgow and co-vice editor of Press Start Game Studies Journal. I research fantasy video games and digital affect with a focus on parasociality and reader response theory. I am joined by our co-chair Francis Butterworth Parr who is a second year SGSAH funded PhD student at the University of Glasgow who researches the deployment of video games as metaphor in contemporary literary culture. I'd also like to introduce our tech support Jack Parkinson who is a researcher at the University of Glasgow and is currently developing a new degree with the Centre for Computing Science Education. Finally, I'd also like to mention our board member Monica Vasquez, a first year PhD student at the University of Glasgow, who researches immersive narratives, fantasy and VR, she cannot be here today but sends her apologies.
We started this Glasgow-based conference 'before all of this' happened, intending to hold it at the University. At first we were disappointed and considered cancellation, but then we realised that holding this conference online was entirely in keeping with the spirit of Digital Heroism – a form of heroism that has become exceptionally apt during these trying times as we use the digital space to work, to play, to disseminate information and to connect with each other when we are not physically able to do so. It has become an issue of political urgency to explore and perpetuate ideals of Digital Heroism in the face of not just villainy, a word which feels more descriptive of Disney's amiable caricatures of badness, but very real and very human evil highlighted by the increased social, financial and political tensions which have been intensified by the COVID-19 outbreak, as well as the deaths of George Floyd and Breonna Taylor and protests which followed. Real heroes of our time, such as the Black Lives Matter movement and the workers of the NHS, have been both aided and encumbered by the digital space. As well as fighting the physical struggle on the front lines, digital heroes have been faced with digital battles: battles of information and disinformation, battles of emotional labour and of education in the struggle to raise awareness to those who can be reached.
Our venue in Runescape and here on Discord, only strengthens our endeavours as it has turned our small Glasgow-based conference into an international event, in which we are lucky to have speakers and attendees from all over the world.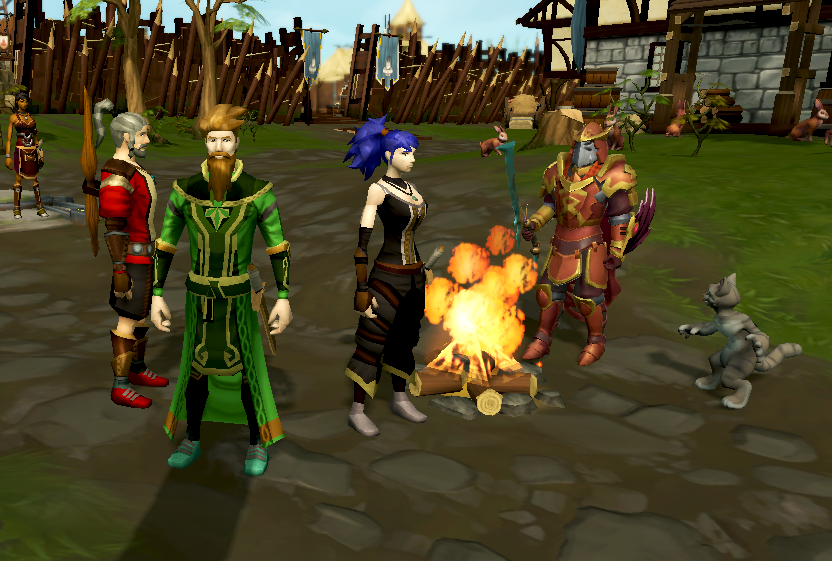 We started this conference because we wanted to explore the ways in which the digital realm functions as a contemporary theory of context for heroism and how this new context may shape our understanding of who and what a hero is in the digital world and consider how we can traverse the digital space with these ideas in mind. But, though the digital space may change how we conceptualise what is heroic, we felt it was important to keep in mind that heroism can be a loaded term, riddled with cultural bias. For so long heroism has been associated with straight, white, Royalty, with Joseph Campbell, with Tolkien and although there is much to learn and enjoy from these stories and ideas and we need not forget them, must digital heroism perpetuate colonialist, heteronormative narratives, or can we create a new kind of heroism, one which is diverse, inclusive and exciting? We have gathered panels which explore how the digital opens and closes doors to particular kinds of historical, cultural or aesthetic heroes and heroines, how the contemporary setting, weaved as it is with digitality, challenges , reinforces, or creates formulations of heroism, and how fantasy literature, a genre more historically situated in the analog tradition of heroes and heroines, could be purposed to determine the digital heroic were all a part of our thinking.
A few quick housekeeping things – Digital Heroisms is being recorded by Gabe and will be made available through the GGlab's research hub page, so do check that out if you wish to rewatch talks. Do keep an eye out for the special edition of Press Start, an open-source journal that will be publishing the proceedings of this conference. The edition is open to contributions from non-speakers, so if your creative tastebuds are tingling after the conference then do consider sending along a contribution. For asking panellists questions, please type 'Q' in the Questions to heroes text channel, and then the panel chair will choose people to either type out their questions in the text channel or to come into the digital heroisms voice channel to speak their question.
Finally, we'd like to thank the Games and Gaming Lab at the University of Glasgow, in particular its directors Matthew Barr, Dimitra Fimi, Jane Draycott and Timothy Peacock for supporting, funding and believing in Digital Heroisms. We'd like to thank all those who submitted to our call for papers and sent us such consistently fascinating engagements with Digital Heroisms. We'd like to thank Jack for his creation of our website and above and beyond contributions to the workings of the conference.